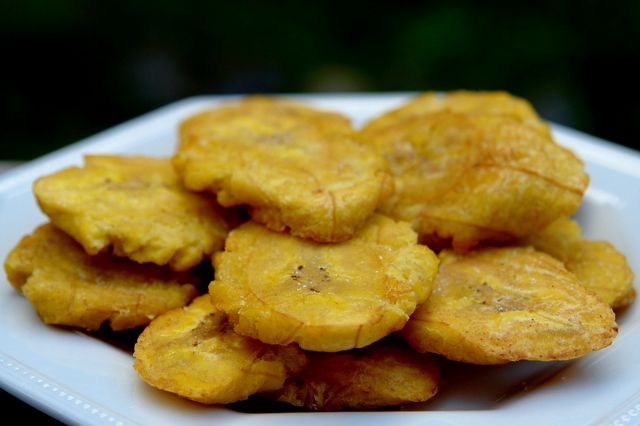 Skill Level: Easy
Cuisine: Traditional
Course: Dinner, Lunch
Portions:4 Portions
Time: 1 hs
Plantains are a staple in pretty much every Haitian meal. The most common method of cooking plantains is frying them which can be served as an appetizer or a side dish. Fried plantains are usually served with other fried meats such as pork, chicken and goat. Here is a basic recipe if you are looking to learn how to cook Haitian food.
Ingredients for Bannann Peze (Fried Plantain):
3 Green Plantains
1 tablespoon Vinegar
1 tablespoon Salt
1 tablespoon Garlic Powder
1 cup of vegetable oil
1 Plantain press or paper foil and a plastic cover
1 cup of hot water
1 Maggie bouillon
1 tablespoon butter
1 spoon of Parmesan cheese
1 scotch bonnet/hot pepper (optional)
Heat Oil on medium high heat in a deep fryer or frying pan.
Peel plantains and angle cut each one into 5 equal pieces.(A little secret, to peal them easily I suggest to put the plantains in hot water for 5 min and then start pealing)
In a bowl add the hot water, vinegar, salt and set aside.
Lightly brown the plantains in the oil (Approximately 5 min).
Remove the plantains from the oil and flatten each plantain using the tostonera or cover the surface with paper foil and use a plastic cover to press them.
Soak the flattened plantains in the hot water and carefully back in the oil for an additional 5 min.
Remove plantains from oil and place them on a paper towel to remove the excess oil.
Serve hot with Griot.
Bon Appétit!