1986
Instability after Duvalier: 25 February The original blue and red flag of Haiti is raised at the National Palace, replacing the black and red flag of the Duvalier regime.
1987
A new Constitution is overwhelmingly approved by the population in March. General elections in November are aborted hours after they begin with dozens of people shot by soldiers and the Tonton Makout in the capital and scores more around the country.
1988
Military controlled elections – widely abstained from – result in the installation of Leslie Manigat as President in January. Manigat is ousted by General Namphy four months later and in November General Prosper Avril unseats Namphy. General Prosper Avril overthrows Namphy and declares himself president.  Two years later he declares a state of emergency and human rights workers and activists are violently persecuted.
1989
President Avril, on a trade mission to Taiwan, returns empty-handed after grassroots-based democratic sectors inform Taiwanese authorities that the Haitian nation will not be responsible for any contracts agreed to by Avril. Avril orders massive repression against political parties, unions, students and democratic organizations.
1990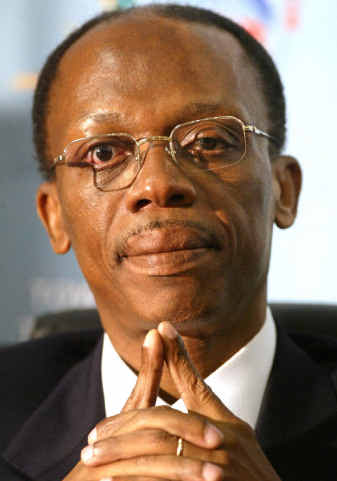 Following the killing of an eleven-year-old girl at a protest, demonstrators shut down schools and shops and take to the streets, forcing Avril to resign. Supreme Court Justice Ertha Pascal-Trouillot becomes interim president and presides over election procedures later that year. On December 16, Jean-Bertrand Aristide, a Catholic priest working with Haiti's poor in the context of the liberation theology movement, becomes Haiti's first democratically elected president.
Avril declares a state of siege in January. Rising protests and urging from the American Ambassador convince Avril to resign. A Council of State forms out of negotiations among democratic sectors, charged with running a Provisional Government led by Supreme Court Justice Ertha Pascal-Trouillot.
U.S. Vice-President Dan Quayle visits Haiti and tells Army leaders, "No more coups." Assistance is sought from the Organization of American States (OAS) and the United Nations (UN) to help organize general elections in December.
In a campaign marred by occasional violence and death, democratic elections finally take place on December 16, 1990. Father Jean-Bertrand Aristide, a parish priest, well known throughout the country for his support of the poor, is elected President with 67.5% of the popular vote. The "U.S. favorite" Marc Bazin finishes a distant second with 14.2%.