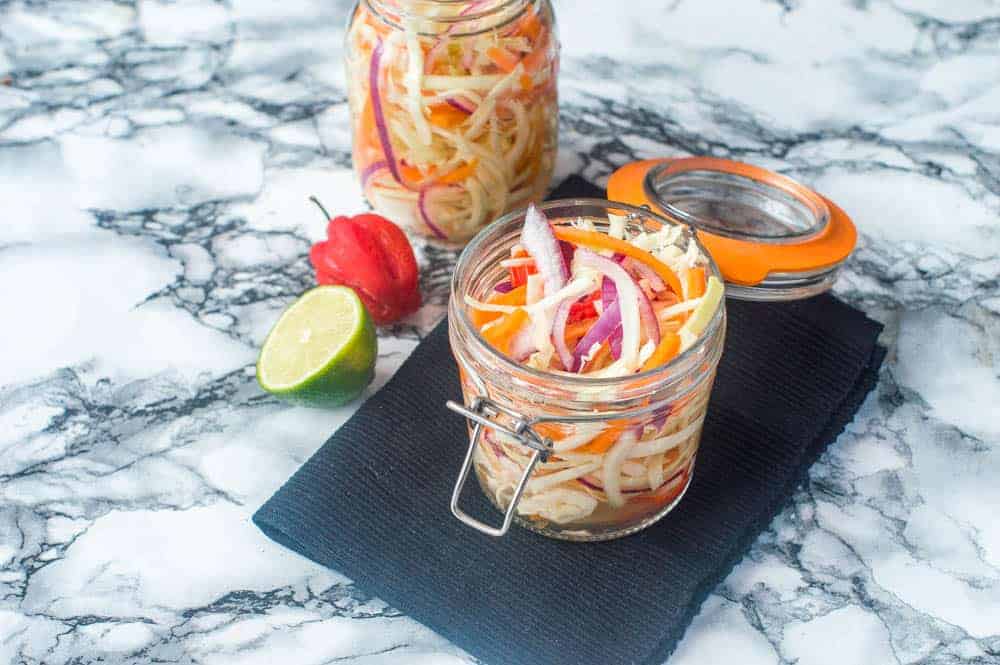 Skill Level: Easy
Cuisine: Regional
Course: Appetizer/Salad
Portions: 4 Portions
Time: 1 hr
In Haiti, this spicy cabbage, carrot and chile-laced pickle, which is pronounced pick-lees, is traditionally served with rich meats and fried foods, like the pork dish griot.
Pikliz
Ingredients for Pikliz:
2 cups thinly sliced green cabbage
1 medium onion, halved and thinly sliced
1 large carrot, peeled and coarsely grated (1 cup)
½ medium green, red or yellow bell pepper, seeded and thinly sliced (1 cup)
2 scallions, thinly sliced
4 Scotch bonnet or habanero chiles, seeded and very thinly sliced
4 garlic cloves, finely chopped
1 ¼ teaspoons kosher salt
12 black peppercorns
2 whole cloves
1 ½ cups cane vinegar, cider vinegar or white vinegar
Juice of 1/2 lime
Combine cabbage, onion, carrot, bell pepper, scallions, chiles, garlic, salt, peppercorns and cloves in a large bowl. Toss well.
Pack vegetables into a large (1 quart) jar with a tight fitting lid. Pour vinegar and lime juice over vegetables. Press down on vegetables if needed until they are completely submerged in liquid. Cover with lid and refrigerate for at least 3 days before opening. Stored covered in refrigerator, pikliz will last for at least 3 weeks, if not longer.
(A little secret, instead of packing it into a glass jar, you can put all the ingredients in a pot and cook them until the vinegar evaporates. Then cover it and take it to the fridge)
Bon Appétit!